With the vast amount of data at our disposal today, as marketers we have a wide range of options to choose from.  But selecting a target audience is only one piece of the puzzle, right?  You can find an audience that fits your customer profile to a T.  You can even make sure that they have the financial capacity to buy your product.  But with all of that data and insight feeding your marketing plan, why are we seeing traditional response rates drop year over year?
Yes, there has been a vast shift towards digital engagement and creating conversations and a two-way communication with our customers.  But we have also seen that timing is still the driving factor for consumers and their buying behavior.
We decided to take a closer look at consumers and how their spending patterns changed after major life events.

For our purposes, Betty represents some of the insights we were able to glean from a real consumer and what happened to her buying behavior after a move. While this data is based on a real individual, the personally identifiable information has been stripped and replaced.
After taking a look at the basic demographics such as age, income, and education levels in addition to average purchase amounts by channel, we still wanted to know more. What happens when we look at a year in the life of an average consumer after a move? With over 20 unique data feeds coming onto our New Mover file on a daily and weekly basis and with over 4.5 Billion transactions on our monthly point of sale RFM file, we had what we needed to take a closer look.
The beginning of Betty's story starts with the sale of her home in June of 2016.  Her home sold in less than three months for $7,500 less than her asking price.  A month later she moved only 11 miles away to an upgraded home with more square footage and an extra bedroom.  Why the need for an extra bedroom?  Well, shortly after her move Betty showed up on another one of our life event feeds as an expectant parent!  With not only one, but now two life events driving her purchase behavior what we found next was pretty interesting.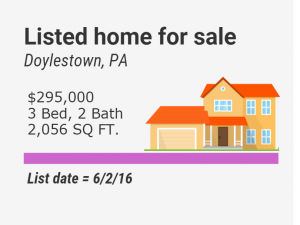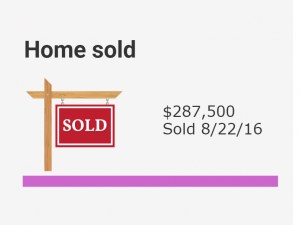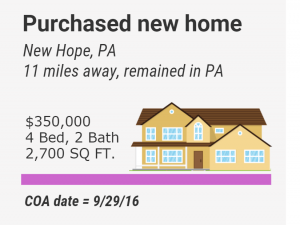 So what is the very first thing that Betty buys after her move?  New furniture and a TV!
Like most new movers, the first thing we do is set up our essentials.  In 2018, that doesn't necessarily include cable, but it does include internet and a place to put our stuff.  While these are the very first purchases made as they enter into their new homes, the decisions on the companies they are going to buy these products and services from is usually already made.  This is why integrating pre-mover and pending sale data into your new mover marketing program will be essential for marketers looking to target these new movers when they are ready to buy.
While new movers are getting settled into their new neighborhoods and sometimes even new states, they start to set themselves up for convenience.  This means looking for new restaurants, bank branches, grocery stores, hardware stores, and the best place to grab a coffee on the way to work.  We have seen that some of our most successful new mover campaigns are the ones that have a localized flare and goal to make their service more convenient for the new mover in their neighborhood.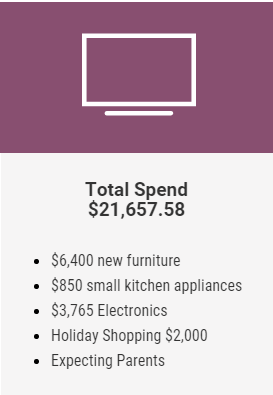 As Betty enters the 4-6 month window after her move, we see her buying patterns shift from necessity to a little more indulgent.
This is one of the best windows for insurance companies and home décor companies to target New Movers.  They have had a couple of months to settle in and are now looking to make their home their own.  There are some very large out of pocket expenses for our new movers in the first three months of their move.  On average consumers are spending over $10K during the first three months alone.  During the 4-6 month window after the dust has settled so to speak, we see buyers re-evaluating their monthly expenses and finding ways to save, like with their home/auto insurance – while also still buying smaller home décor items to personalize their new pad.
Continuing to target this audience for localized offers is still vital to getting these new movers more acquainted with your brand.  As marketers know, repetition is key when introducing unfamiliar brands to a new audience.  While our new movers are trying to remain cost effective with their purchases, as marketers, the use of digital retargeting can be a cost effective tool as well!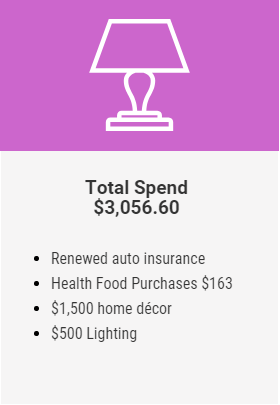 The 7-9 month window was a busy time for Betty. She went on a clothing shopping spree, activated a new credit card, looked into buying a new car AND became a new mother.
As a whole, we do see the average spend amounts for new movers within this time period increase from the 4-6 month window. It is important to continue to market to this group during the 7-9 month post-move time frame so that you can be a part of their buying decisions as they enter what we call the "renewal" season of their move. This is when we see the most subscription renewals and changes.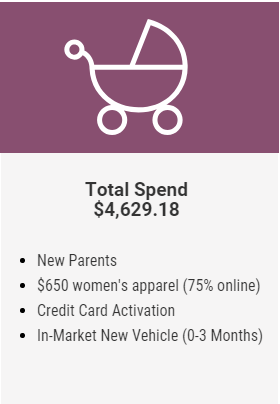 As Betty closes in on almost a year in her new home, her new credit card got some use! She took out a new life insurance policy, opened a new savings account, signed up for a small box beauty subscription, and made a nice donation to her favorite animal charity.
We were able to track Betty's purchases to over $35,000 spent on home décor, new couches, end tables, lamps, children's bedroom accessories, fixtures, and more in less than 12 months. With not one but two major life events in less than a year, Betty was a prime candidate for online retailers, furniture and home products, insurance, local service providers, and more.
Timing will play such a large role in purchase decisions for consumers. Being able to walk through their customer journey and offer significant and convenient CTA's at the right time can make the difference for these potential customers. How are you engaging with life event prospects? Are you identifying if your current customers are gearing up for a big change in their lives as well? We would love to hear your stories and the experiences you have gone through as marketers and how timing has impacted your campaigns.